Speed up the digitalisation of your procurement processes
Do you think your procurement management could be optimised?
Are you looking for a solution to enhance the productivity of your teams?
Do you spend too much time on the administrative management of your purchases?
Would you like to secure your procurement process?
Would you like to delegate better while staying in control?
Are you sure that contracts with suppliers are being respected?
Would you like to improve relations with your suppliers?
Have you considered digital procurement?
Digital procurement, a lever of financial and competitive performance
How can you administratively manage an increase in procurement without hiring additional staff? How can you ensure the processing quality of repetitive tasks while keeping employees motivated? How can you maintain a competitive advantage through innovation? How can you guarantee production quality and deadline compliance? How can you increase the net profit of a company solely through the procurement function? How can you offer attractive prices and stand out from the competition?
The answer is simple: by digitalising your company's procurement process.
Digital procurement will help you to…
Could your employees work more?
Definitely not.
Could your employees work more?
They sure can !
Manual procurement management, as it is still common practiced in many companies, requires spending a considerable amount of time on low-value-added tasks that could be automated. Automating the procurement function means freeing your teams from time-consuming and repetitive tasks. Managing the procurement cycle with a digital solution can double your team's productivity and thus increase the procurement scope addressed by your procurement department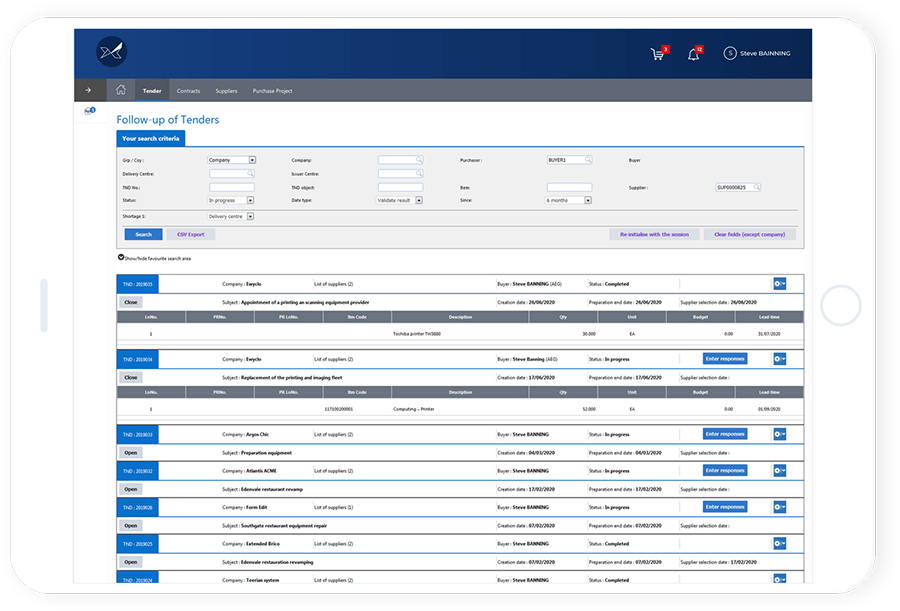 Digitalising the source-to-contract process lets buyers focus on their core business
Offer controlled autonomy
Are you sure that your procurement policies are being followed?
Can you monitor the processing of certain documents?
No you can't?
One of the main advantages of procurement digitization is that it helps procurement managers and company managers integrate purchases into the business process to increase operational performance. The traceability of operations offered by a Procurement IS makes it possible to ensure that the procurement policy is respected. You can delegate tasks to your teams while staying in control.
Streamline your procurement cycle
Do you spend too much time looking for the right document or contact with your supplier?
If so, then your procurement and purchasing process could be further improved
Selecting suppliers, signing contracts, processing invoices, managing stocks… do you know who exactly is in charge of each task? Is there a fast processing time for your procurement operations? If the answer is no, you should know that digital procurement facilitates the exchange of documents and information between your buyers, operational staff or accounting teams, and your suppliers.
Are you sure that all your suppliers comply with their legal obligations?
Probably not.
You are responsible for the people you work with, and this includes your suppliers. Accessing platforms for legal documents takes time, as does gathering supplier information. With a procurement software that gives you a 360° view of supplier information, you are directly connected to legal information databases and documents are automatically integrated into your supplier database. You and your suppliers can also save documents, information and performance scores…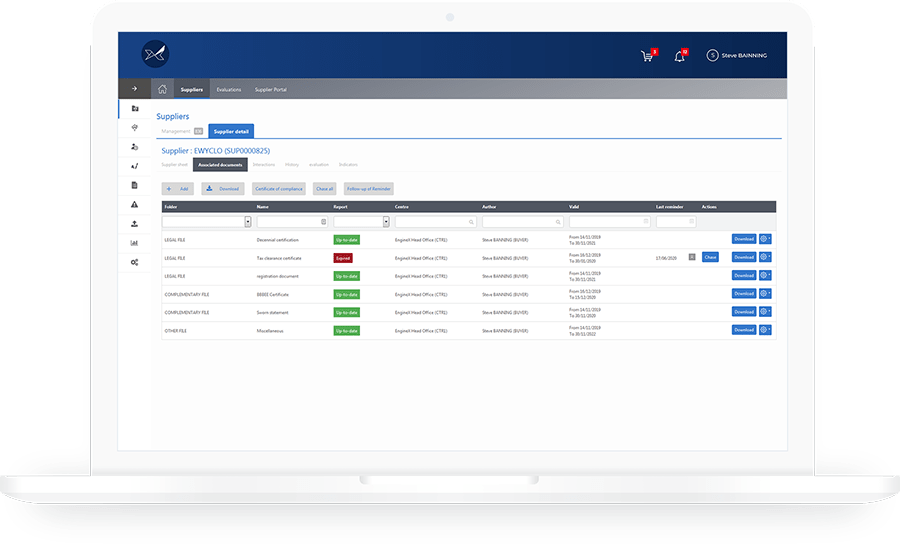 Directly connected to legal information databases, a single digital solution allows you to manage supplier compliance risk
Are negotiated contracts and agreements well respected?
Not always
What's the point in negotiating favourable rates or allocating budgets per supplier if the company procurement or operational teams do not use them?
From the order processor to the executive assistant, and including the accountant, not everyone knows the contract provisions that refer to the client/supplier relation.
By digitalising your procurement processes, you can grant access to all the relevant data that will help your employees to respect contracts and businesses. Say goodbye to maverick spend as your procurement system will guarantee compliance with contractual terms.
Boost your supplier relationship
Do you meet the payment deadlines for your invoices?
Is your communication with suppliers clear?
Not always?
This can have a negative impact on your relations with suppliers. A collaborative procurement software helps you improve your communication with suppliers. They can see, for example, the status of their invoices in your procurement cycle, receive your RFx, send their proposals… Communication is simplified, and information becomes easier to find and view.
Digital procurement also means…
Gaining visibility on your spend
Do you know exactly how much upcoming expenses will be?
If not, it will be difficult to stick to your budget.
Digitalising the procurement processes enables you to know in real time, and for each supplier, all committed amounts and available sums for future orders. You will have access to the relevant information on ongoing and future expenses, but also on essential data such as contract renewal dates or cancellation deadlines. Your budgets are respected, and your spending is under control.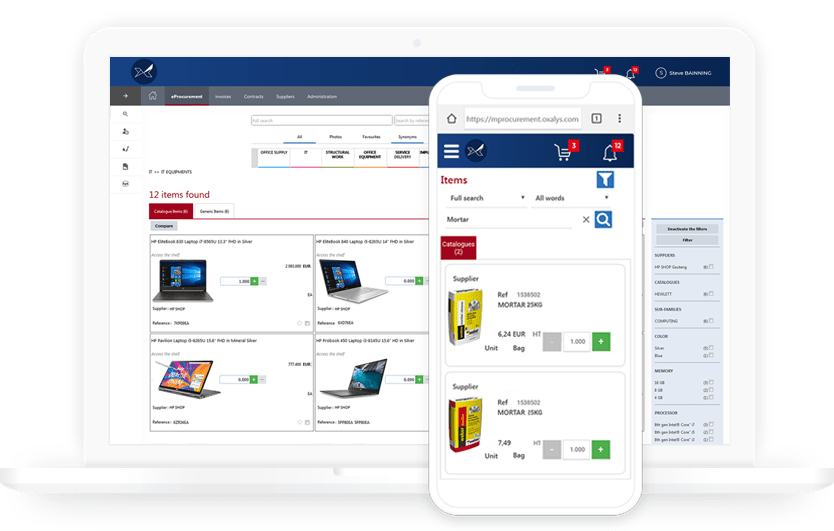 Digital Purchase-To-Pay allows everyone to place orders in compliance with the procurement policy
Create a procurement strategy
Are you taking full advantage of your procurement function?
No?
Once repetitive task management is automated, your teams will have more time to perform high added-value tasks.
Digital Procurement also means being able to create and manage a procurement strategy. An S2P software allows you to implement procurement action plans and monitor them according to the company's strategic and financial goals. You are able to create detailed reporting documents. This analytical tool decisively helps management make the right decisions.
Improve your company's image
Would you like to ensure fair treatment for your suppliers?
The transformation of procurement has a direct impact on your company's public and private image. Today, ensuring fair treatment for your customers and suppliers is key to the perception of a company's or public entity's values.
A private or public organisation's image can also be affected by procurement compliance, particularly compliance with public procurement rules. Writing specifications, drafting a contract, advertising the tender, monitoring offers… all this can be done with a high-performance procurement software.