Oxalys Supplier Portal: a collaborative tool to work smarter
Streamline communication with your suppliers, let your suppliers update administrative information, simplify tender management, share transaction documents and their status
With the Oxalys Supplier Portal you can…
Orders, invoices… the Oxalys Supplier Portal is where your suppliers can send and receive all documents related to your business relationship. Your partners enjoy clear information on the status of their business transactions.
Delegate particular tasks
Collect compliance documents, update administrative information… the Supplier Portal allows you to free up your buyers by delegating these time-consuming tasks to your suppliers.
Harness information on the fly
The Oxalys Supplier Portal works seamlessly with our SRM solution. This means you get simplified access to the full range of documents, correspondence and projects (products, services, etc.) for each supplier.
The Supplier Portal that helps you…
Streamline client/supplier contacts
Our collaborative supplier platform facilitates quick and efficient communication with your suppliers. Notifications and approval systems to manage your contact in real-time. Smoother – and higher quality – client/supplier relationships.
Save time & Empower your suppliers
Give suppliers the permissions they need to complete tasks they can manage on their end, while you focus on tasks with high added value for you. Thanks to our Supplier Portal, you can delegate time-consuming tasks and focus on what you do best.
Simplify your procurement process
The Supplier Portal is an integral part of the digital tender process. It is built into the other features in our sourcing solution, so that you can use any qualitative and quantitative information submitted by or sent to suppliers, on the fly.
Achieve successful supplier onboarding with the Oxalys Supplier Portal
Streamline communications between suppliers and the customers placing an order, simplify management of administrative supplier information, get notifications for every new message: the Oxalys Supplier Portal is the go-to solution for improving your Supplier Relationship Management.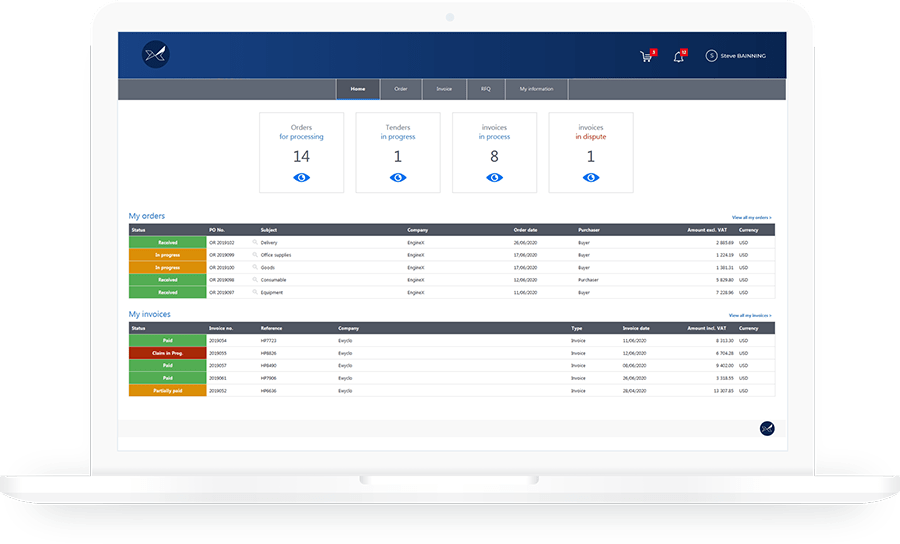 Send administrative documents
The Oxalys Supplier Portal includes an "document attachment" feature for paperless correspondence with your suppliers.
collecting information
upload of administrative documents (company registration documents, certificates etc.)
associated documents
Update supplier information
Your suppliers can update their profile by uploading the documents you need. Your buyers have direct access to supplier master data and can control incoming and outgoing flows.
keep data up-to-date
upload electronic catalogues
qualitative and quantitative data
Get a clear overview of your current transactions
Pending orders, processing or in dispute invoices, ongoing calls for tender… The dashboard provides a detailed overview of your transaction statuses. You benefit from a qualitative view and direct access to each transaction.
issuing Calls for Tender
order confirmation
display invoices and their financial status
browse records: orders, receipts, invoices
They place their trust in Oxalys
"By broadening access to financial data with full transparency through digital solutions, we have removed the barriers to intra- and inter-departmental communication. This project has helped to improve internal communication and understanding of how the FFF works, but also communication with suppliers.

Christophe Moreaux

Head of the Management Control Department - French Football Federation
Client Testimonial – French Football Federation
Simplify and streamline your spend management while complying with internal control rules.
Read the case study
Find out why many companies use our solutions
FAQ Supplier relationship
Companies use supplier portals to grant suppliers online access to the full range of information on past and ongoing transactions, as well as to future contracts or projects. The SRM solution also boosts buyer productivity, primarily by enabling buyers to delegate time-consuming parts of the supplier relationship, such as :
answering invoice status queries
dispute management
updating administrative data
communication on tenders
submission of supplier invoices
Digital invoicing is a paperless billing process. Web solutions and applications, like the Oxalys collaborative portal, allow suppliers to view and manage their invoices online. Invoices are processed electronically via a collaborative client/supplier portal that accelerates the invoice management process and offers a range of additional benefits :
compliance with payment deadlines
improved client/supplier relationships
increased productivity
reduced invoice processing costs
enhanced data traceability