Contract Management with Oxalys
Negotiate, create contracts, manage your framework agreements
With Oxalys Contract Management you…
The Oxalys Contract Management feature lets you easily manage your supplier contracts. All legal information is centralised, you only need to add the specific conditions of your agreement.
Once the supplier contract or the framework agreement is signed, you have access to all documents related to the transaction: threshold, price schedules, amendments to the terms and conditions, etc.
You will be informed of end of contract or renewal deadlines through notifications. You can also block the use of certain contracts when renegotiating terms or bringing them into compliance.
The contract management solution that helps you to…
Record your pricing agreements
Our contract management solution allows you to establish contracts in accordance with legal requirements and previous agreements between your company and the supplier. You formalise your client/supplier relationship and make sure you are acting in accordance with the legal framework and guarantee the security of transactions.
Respect the conditions of your contracts
From your Contract Management platform, you have access to all framework documents. You respect agreements undertaken with your suppliers and you oversee the execution of these contracts.
Increase your business profitability
Continuous monitoring of your contracts and the deadlines alert system allow you to anticipate contracts and subscription terminations. The temporary freezing of certain contracts, particularly during renegotiations, is another way to reduce administrative workloads.
Contract Management with Oxalys
Encode contractual clauses, create contracts, ensure compliance with general terms and conditions and applied rates, view penalties, receive expiration alerts…the automation of your contracts management is achieved by Oxalys.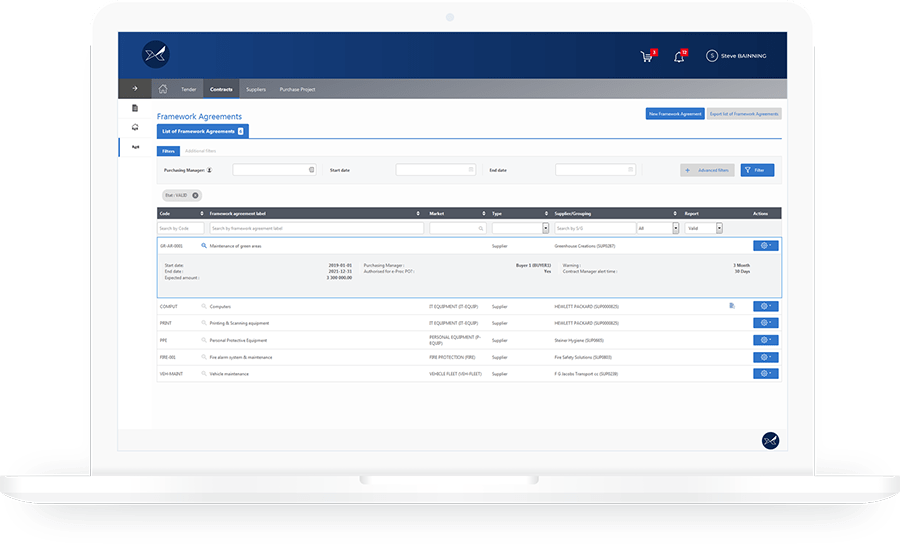 Create a supplier contract
The contract manager searches for the supplier through selective sorting options in the software and creates a contract based on negotiated elements. The system accelerates the process of research, creation, signature and amendment of contracts. Once published, the Oxalys Digital Purchasing feature allows its use by internal clients.
Contract generation based on negotiated elements
Temporary or permanent contract freeze option
Indicate pricing agreements in the contract repository
The contract repository gathers all of the contracts that govern business operations between suppliers and the company. The numerous exchanges are tracked until the contract is finalised to ensure that all employees (procurement, finance, accounting, operations, etc.) apply the same purchase conditions.
Centralised contract repository
Visibility on interactions between client and suppliers
Ensure company contract management
Once published, the Oxalys Digital Purchasing feature allows internal clients to use the contract. The terms and conditions of contracts are observed, whether for supplies, services or works
Compliance with agreement terms
Switch between general or specific contract use
They place their trust in Oxalys
"All employees contribute to the financial life of the organisation.
We focused our project on users and digital solutions to improve autonomy and responsiveness'

Christophe Moreaux

Head of the Management Control Department - French Football Federation
Client Testimonial – French Football Federation
The FFF relies on the modernisation of its spend management to develop intra- and inter-departmental cooperation.
Read the case study
Find out why many companies use our solutions
Digital contracts are at the core of the digitalisation of the contract management process. It speeds up procedures: approval, signature, creation of amendments, etc. Digital contracts from the company are stored in a contract repository. That way they are easier to create, find, view and archive. In legal terms, they have the same value as a paper contract
Implementing a company contract management solution enables you to:
Share a unique, centralised repository of company contracts
Accelerate contract review, annotation and finalisation processes
Respect the approval process of company contracts by automating their integration into the contract repository
Track in real time the progress of the contract validation and signing process
Be alerted of upcoming deadlines: end of contract, tacit renewal, etc.
Optimize the control of contract management procedures
Make amendments in accordance with the rules from the initial contract
Facilitate purchases/procurement of negotiated items
Track the evolution of consumption on contracts
Facilitate the reconciliation processes (billing)
Limit the risk of losing documents