Supplier Invoice Management by Oxalys
Match, check, and approve supplier payments, easily process supplier invoices, manage financial commitments, and use digital invoices.
With Oxalys Supplier Invoice Management  you can…
Match and check supplier invoices
The Oxalys solution automatically match the received invoice with the items that make up the order. It provides an overview of all associated documents (purchase order, delivery note, etc.)
Manage financial commitments
Our P2P software's supplier invoice management feature provides you with a complete overview of your financial commitments with your suppliers.
Directly connected to your accounting and finance software, Oxalys Supplier Invoice Management facilitates paperless communications between systems and provides relevant information to the right people for a more effective decision-making process.
The invoice management solution that helps you to…
Optimise your processing times
With Oxalys, any document linked to your invoice is at your fingertips. It helps you manage discrepancies between invoices and orders, and the workflow ensures that the approval process is complete before payment is made.
Calculate financial commitments
Get a clear view of your commitments with your suppliers. With Oxalys P2P, you can calculate accrued invoices and prepaid expenses in real-time, importing them straight into your accounting tool.
Guarantee a secure and reliable audit trail
Digital supplier invoice management means guaranteed traceability for all transactions. A reliable audit trail is fully documented, guaranteeing that your supplier invoices are tax compliant.
Oxalys Supplier Invoice Management
Check and approve invoices, automatically match invoices and associated documents, identify your company's commitments in real-time… Oxalys makes invoice management easier and more professional.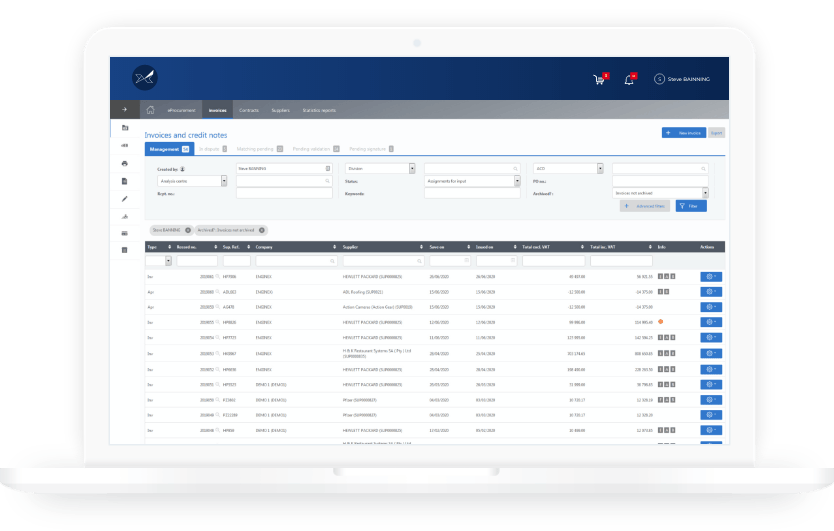 Checking supplier invoices
Rest easy with the Oxalys P2P software that automatically matches the invoice against the items ordered/received, and know that all terms and conditions have been met.
automatic and configurable invoice matching process
manage discrepancies, disputes and incidents
Supplier invoice workflow
Complete the full approval process before payment is made with the supplier invoice workflow tracking feature.
discrepancy alerts
pre-payment approval process
manage payment approvals with connection to accounting software
Reap the rewards of an efficient and 100% digital supplier invoice management solution. Wave goodbye to paper invoices.
manual or electronic input: Scanning/Digitization, ADR/OCR
upload invoices to the Supplier Portal
reduce paper usage
images you can take with you anywhere
They place their trust in Oxalys
"Before, we used to work on an Excel file. We had to call the accounting department to get an order number, then edit the purchase order and have it signed by our manager, before sending it to the supplier and accounting. Now, we place our order directly in NAOS Store, approval is done on the portal and everything is sent to the supplier.

Stéphane Faustin-Leybach

Naos Group Procurement Director
Client Testimonial – Naos
To support the group's strong growth, the Procurement Department has developed an innovative procurement strategy that resulted in the implementation, at the beginning of 2017, of a digital procurement and SRM solution called NAOS Store.
Read the case study
Find out why many companies use our solutions
An invoice is a legal document that must meet certain legal requirements. It is therefore the responsibility of the person in charge of a company's invoicing process to review every supplier invoices the company receives. Once the invoice has been reviewed, the elements on the invoice must be matched against those listed on the purchase order or delivery note: quantities, prices, shipping costs, discounts, payment deadlines… and paper invoices also need to be filed away.
Processing invoices is a time-consuming administrative task. While smaller companies may be able to process invoices manually, larger companies or those receiving a high volume of invoices will opt for an automated solution and digital invoices.
The main reasons to use a supplier invoice management software are as follows :
faster invoice processing time
easier matching
automated invoice archiving
detection and reduction of invoicing errors and discrepancies
Associated Purchase to Pay features