Supplier Management: Oxalys offers you a 360° view
Centralise supplier data, facilitate decision-making, reduce risks
With Oxalys Supplier Management software you can…
Contracts, certificates, evaluations, transaction records, financial scoring… Supplier 360° is a one-stop-shop for all supplier information, tracking all client/supplier activity. Legal information is also added to the solution in real-time, via the platforms that generate official legal documentation. Information is collected collaboratively. Paired with the Supplier Portal, you can accredit your suppliers, enabling them to update their data and perform certain actions online.
Procurement, General Management, Finance, or Operations… Oxalys Supplier Management delivers clear, complete, shared and relevant information, for any role or department.  It is a solution that helps you analyse the situation and make the most pertinent decisions when purchasing services, products and trade work. Optimize the user experience and your decision-making process by customizing your dashboard to display information you need.
Your Oxalys supplier database is synced with external document generation platforms that help manage supplier compliance within your company. Get automatic notifications to guarantee compliance with legal or regulatory requirements (fight against undeclared work, disclosure obligations, etc.). A system that lets you foresee certain failures or non-compliances linked to your orders, thereby reducing supplier risk.
The supplier database that helps you…
With the 360° view of supplier information provided by Oxalys, all the information you need is waiting for you in one place. No more need to hunt down documents scattered across your company's departments. You save time and work more efficiently.
Management, finance, operations, procurement… Supplier 360° helps you make the right decisions. With a complete overview of all relevant business information right when you need it, you and your team can select the right supplier for every procurement project.
The Oxalys Supplier Management solution provides you with a simplified assessment of your supplier risks. Real-time notifications keep you up-to-date with upcoming actions so you can fulfil your legal obligations.
A 360° view of supplier information with Oxalys
Collect and update supplier data, assign administrative tasks to your partners, ensure compliance… Oxalys' supplier information management feature guarantees quality management of the supplier repository.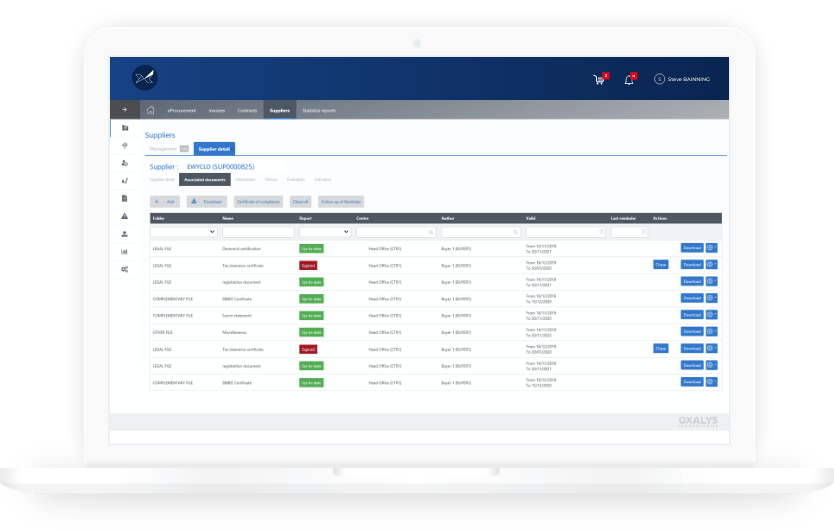 Manage supplier information
Oxalys Supplier Management is your one-stop repository of useful information for each party involved in the procurement process. Fully configurable to your needs, our solution's broad range of features provides you with the following data centralisation functionalities :
multi-criteria search engine
multi-contract management
prospect follow-up
supplier grouping…
Consolidate and display all data
With our supplier database, get a detailed report of your supplier information in just a few clicks :
standard or custom view
number of orders and their status…
turnover generated
supplier performance assessment
actions and transactions…
Enhance the quality of your supplier relationships while reducing the risk involved in your purchase procedures. This is possible thanks to the many practical features of Supplier 360°. Some examples :
integration with the leading legal document management platforms
tax documents
supplier scoring and performance
business and financial information
They place their trust in Oxalys
"We were impressed with the functional scope of the Oxalys solution and its step-by-step implementation to gradually provide us with a 360° view of our suppliers.

Stéphane Faustin-Leybach

NAOS Group Procurement Director
Client Testimonial – Naos
To support the group's strong growth, the Procurement department has developed an innovative procurement strategy that resulted in the implementation, at the beginning of 2017, of a digital procurement and SRM solution called NAOS Store.
Read the case study
Find out why many companies use our solutions
Prosecution, supplier social security payment, fines… a failure to comply with due diligence rules incurs negative consequences for the client. A legal document management system, therefore, limits these risks.
Collaborative solutions like Oxalys Supplier Relationship make it easier to collect and control documentation, for total peace of mind during any controls or audits.
Yes, the Oxalys solution is connected to the main external information and company documentation platforms. Our standard APIs allow us to establish a link between our platforms and guarantee you full access to all information in one place: Oxalys Supplier 360°.