Project Procurement Management by Oxalys
Manage your purchases in project mode, track schedules and targets, make your Procurement Department more efficient
With Oxalys Project Procurement Management you can…
Create methodology for procurement projects
Thanks to its many features, Oxalys Project Procurement Management enables you to customise your processes in order to manage and track the most important aspects of procurement: RFx, contracts, supplier development, procurement projects…
Assign roles to your collaborators
The Oxalys Project Procurement Management software lets you assign roles, tasks and targets to every stakeholder in any project.
Set your procurement action plans
Planning the steps in the procurement action plan, setting project budgets… this solution lets you structure your procurement project in different batches of sequential or parallel tasks.
The Procurement Management solution that helps you to…
Manage and track your entire procurement process
Our Project Procurement Management software lets you manage your projects from a single platform. Budgets, planning, targets, contributors, key dates, documents… the software contains all the information you need to lead and manage your procurement projects.
Work collaboratively on your projects
Oxalys software lets you collaborate effectively with all parties involved in your procurement projects. Each project participant has a view of its targets, assigned tasks, deadlines, etc.
Track progress of your procurement projects
Track the record of tasks linked to your action plans using the planning view and work more efficiently together. This feature of the Oxalys digital procurement software helps you check that the project is going according to schedule.
Manage procurement action plans with Oxalys
Develop a procurement action plan, monitor projects, assign tasks to stakeholders, track project development, collaborate effectively with the team… Oxalys makes managing your company's procurement projects easier.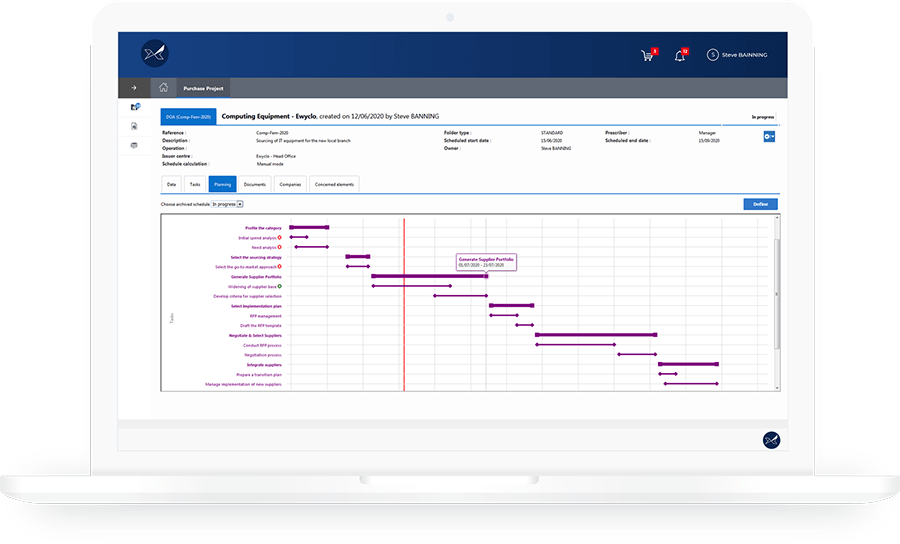 Create and edit procurement projects
The Buyer or Project Procurement Manager uploads the projects they manage into the software. 100% collaborative, the solution is able to unite teams, often made up of stakeholders from different business lines, around a common project. Data and document sharing features further strengthen collective efficiency.
create and modify projects
projects organised in folders and files
project templates
manage stakeholders and their roles
Set tasks from the procurement action plan
With its table view, the procurement action plan lists and plans all stages of the project, from the RFx to the supplier improvement plan.
Gantt chart
organise tasks and actions
create and modify tasks and deliverables
The project procurement management software offers a summarized view of each project. To enable in-depth data analysis, the information can be exported in different formats from the Oxalys data warehouse
export HTML, PDF, Excel and CSV
report generation
They place their trust in Oxalys
"The usability of the solution and our approach to change management helped us to achieve one of our main objectives, namely procurement coverage.

Stéphane Faustin-Leybach

NAOS Group Procurement Director
Client Testimonial – Naos
To support the group's strong growth, the Procurement Department has developed an innovative procurement strategy that resulted in the implementation, at the beginning of 2017, of a digital procurement and SRM solution called NAOS Store.
Read the case study
Find out why many companies use our solutions
FAQ Project procurement management
Managing purchases in project mode is the responsibility of lead buyers. They guide their project using the company's internal resources. Procurement project mode means working with other departments (legal, quality, logistics, etc.) to develop a procurement action plan for the various stakeholders to follow.
The strategic and operational steering of procurement projects and related activities covers various fields. Below is a non-exhaustive list:
tender (public/private) management and monitoring
contract procedure management and monitoring
purchasing files management and monitoring
contract execution management and monitoring
supplier innovation project management and monitoring
supplier improvement plan management and monitoring
procurement project management and monitoring
The first step in setting up a procurement project within a company is raising awareness of procurement among the staff. Then, the needs of each department or business must to be taken into consideration. Everyone has different needs that must be understood and taken into account when developing a procurement plan. Finally, after defining each project stage, the action plan needs to be implemented with measurable objectives defined.
Each project is different but these are the main stages of a RFx project :
need identification
supplier consultation
call for tenders
supplier selection
negotiation of prices and terms
contract management
project launch
action monitoring
data analysis
quality control
application of corrective actions, if needed