Supplier Performance Assessment : The relevance of a collaborative, customisable solution
Set your evaluation criteria, gather feedback from your teams, consolidate and analyse results
With Oxalys Supplier Performance Assessment you can…
Create performance surveys
Oxalys Supplier Performance Assessment feature helps you run performance surveys within your company. From defining the criteria to analysing results, and including selecting the collaborators you will approach for feedback, our Supplier Performance Assessment solution can be tailored to your needs when launching online surveys.
Lead times, costs, CSR… define your quality criteria in line with markets and suppliers, and collect feedback from your employees, the right people to approach for this kind of information. The information and scores you collect will therefore be aligned with your quality indicators (price, deadlines compliance, product quality, performance, etc.)
Develop improvement plans
One of the aims of any good supplier performance assessment strategy is to develop an improvement plan. The data obtained when tracking supplier performance creates useful indicators to improve procurement performance within your company.
The Supplier Performance Assessment solution that helps you to…
Professionalise your supplier performance management
Identify quality criteria, collect and analyse data, take corrective actions… our Supplier Performance Assessment software lets you to design professional performance surveys. The data you gather matches your evaluation criteria, and can be used as the foundation for an improvement plan.
Run effective and accurate evaluations
Each person involved in the purchasing process evaluates suppliers according to their own criteria. Allocate targeted surveys to selected evaluators for objective and measurable evaluations. The Oxalys Supplier Performance Assessment solution allows you get feedback from the right people for the survey you need.
Improve procurement performance
Quickly identify errors, suggest opportunities for improvement, monitor the quality of each supplier's work… all this is possible thanks to the features of our solution. Control, predict, react… these are the foundations of accurate supplier performance management.
Manage supplier performance with Oxalys
Create and customise a performance survey, set relevant criteria according to projects and markets, gather insightful feedback and scores, suggest opportunities for improvement… the Oxalys Supplier Management solution guarantees effective supplier performance assessment.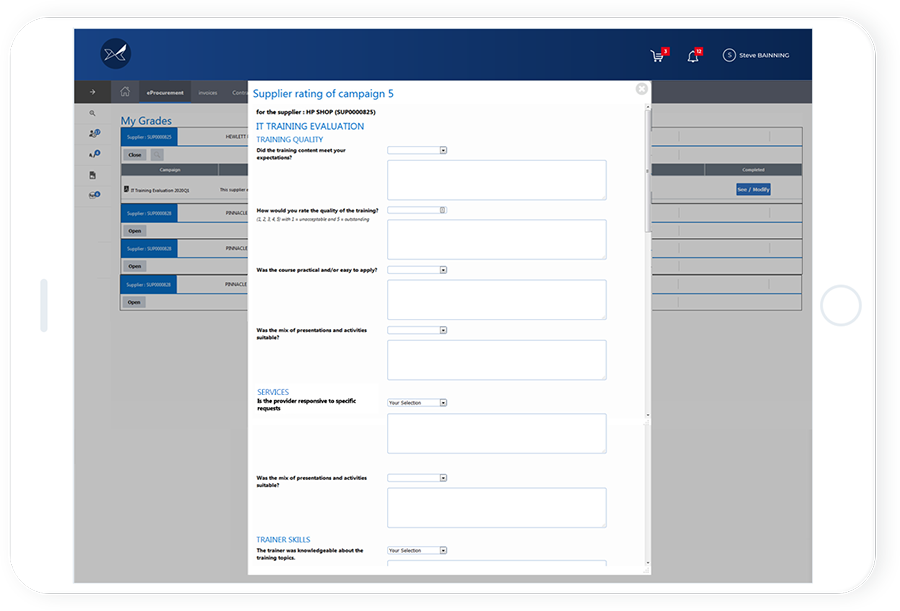 Set your evaluation criteria
The performance survey feature lets you include both quantitative and qualitative criteria. Fully configurable, it allows you to customise each survey according to targets defined by Quality, Technical, Procurement or General Managements.
customised quantitative and qualitative evaluation criteria
customised scoring system
Collect and analyse feedbacks and observations
Our supplier performance management solution makes it easy to collect information from the people you have tasked with evaluating your partners. It generates performance reports that provide you with clear, summarised information on the results of decisions taken during the annual review or renegotiation phases.
survey management and planning
surveys triggered by purchase order value
automatic reminders and tracking
Invest in continuous improvement
The Oxalys Supplier Performance Assessment solution helps you implement improvement plans and corrective actions, in line with the procurement project management features. This lets you predict errors, engage supplier stakeholders, and track everyone's progress.
summary and custom performance reports (through procurement reporting)
automated performance surveys linked with improvement plans established and managed by the procurement project feature.
They place their trust in Oxalys
"Before, we used to work on an Excel file. We had to call the accounting department to get an order number, then edit the purchase order and have it signed by our manager, before sending it to the supplier and accounting. Now, we place our order directly in NAOS Store, approval is done on the portal and everything is sent to the supplier.

Stéphane Faustin-Leybach

Naos Group Procurement Director
Client Testimonial – NAOS
To support the group's strong growth, the Procurement Department has developed an innovative procurement strategy that resulted in the implementation, at the beginning of 2017, of a digital procurement and SRM solution called NAOS Store.
Read the case study
Find out why many companies use our solutions
FAQ Supplier Performance Assessment
The quality of your work depends partially on the quality of services and products provided by your suppliers. Carrying out evaluations allows customers to be sure that suppliers can meet the company's needs. This also lets you keep track of service quality according to a series of qualitative or quantitative criteria.
As such, implementing a supplier performance assessment plan lets you :
improve services
care for your company image
reduce costs linked to services that do not comply with specifications or purchase orders
Ongoing supplier performance assessment is a process that begins with the first contact and continue throughout the business relationship between the client and the supplier.
Evaluation during first contact consists of ensuring that the supplier is able to provide the service that the buyer wants.
Before placing the first order, first step is usually to ensure that the supplier meets the company's due diligence criteria.
Throughout the business relationship, evaluations can be performed at various points :
after each order
randomly
to a pre-set schedule
by supplier group
on strategic supplier panels