P2P: Purchasing by Oxalys
Digitalise your purchasing process: create your purchase requests, monitor the purchasing workflow, process your supplier invoices, manage purchases and inventory
With the Oxalys Procurement solution you…
Centralise your purchase requests
The Digital Purchasing feature of Oxalys Purchase to Pay allows you to issue and view all purchase requests placed in the solution. Browse catalogues, place your purchase requests or submit a requisition request in just a few clicks.
Harness mobile procurement on your device
Mobile users can directly place orders in "over-the-counter" mode with their mobile devices while complying with the company's control rules and procurement policy.
Manage all types of purchases and commitments
Oxalys purchasing platform adapts to your purchasing processes. Each action is tracked and goes through a customizable approval workflow for your production purchases, overheads, services, subscription, energy and any other type of purchase.
The procurement solution that helps you to…
Fully customizable, the Oxalys procurement software makes sure that buyers and users place orders that comply with the rules set by the procurement department: budget, validation, etc.
Do you urgently need a commodity? The Oxalys Mobile Procurement feature gives you access to your catalogues and lets you to order wherever you are: construction sites, at a client's site, on-the-road, etc.
By helping you automate time-consuming tasks with low added value, you increase productivity with faster processing time and reduced error risk while ensuring compliance with company rules.
Oxalys Procurement software
Browse catalogues, access marketplaces, submit your needs, place a purchase request, track your budgets, place mobile orders… Digitalise your purchasing process with the Oxalys solution.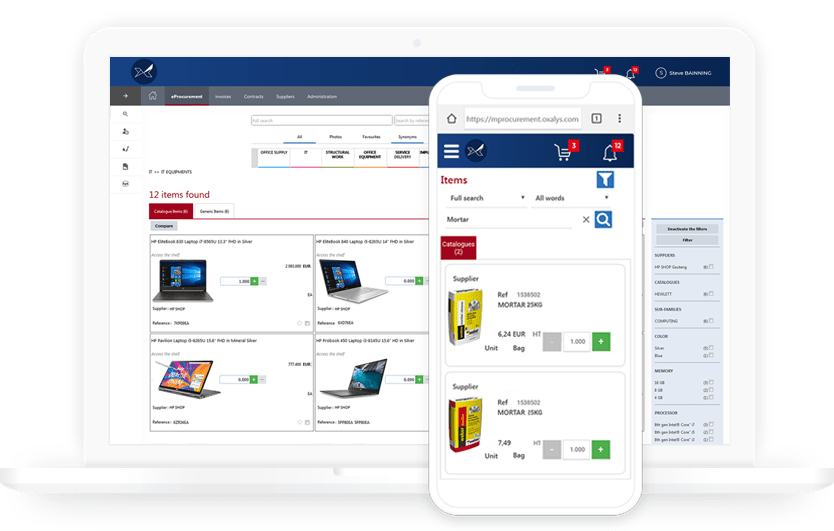 Set – and stick to – budgets
Place your purchase requests and orders with a view of allocated budgets, amounts committed and available balance.
dashboard
project and market view
configurable procurement rules
Browse catalogues/PunchOuts
Publish complete supplier catalogues and provide easy access to thousands of reference items. Guarantee user adoption thanks to a solution as simple and intuitive as the most popular e-commerce sites and marketplaces.
customizable product catalogues
complete product sheets (photo and detailed product description)
advanced search features and contextualized data filters
access to marketplaces via the PunchOut feature
The product, service or supplier you are looking for is not in the catalogue? Make an RFx request and fill in your requirements directly online. Your request is immediately sent to the right person for processing.
requisition form
immediate routing
Configure the approval process
Are you a procurement manager or business executive? 100% configurable, the P2P solution includes a purchasing feature that helps you integrate your own process for tracking and validating the purchase request cycle.
integration of purchasing rules
monitoring compliance with procedures
automatic or manual validation
They place their trust in Oxalys
"The implementation of a group supplier catalogue has given us a global view and allowed us to go beyond local agreements. By interfacing Oxalys with our site management solution, we have a better daily monitoring.

Bernard Villepinte

Procurement Director - NGE
In order to optimise and streamline the group's procurement  processes, the Procurement Department has chosen to implement a digital procurement solution and offer its employees a mobile and intuitive way to manage their on-site purchases.
Read the case study
Find out why many companies use our solutions
Digital purchasing centralizes a company's purchasing process on a digital platform. It is exclusively reserved for B2B (Business to Business) purchases between companies. Digital purchasing is integrated into the purchase to pay (P2P) process, along with supplier invoicing and inventory management. It helps the buyer to track in real time the company's purchase workflow: data, prices, offers, costs…
Purchasing is also possible through mobile devices with adapted management processes and rules.
Digitalizing your purchasing process and, particularly, its purchase requests with P2P solution has many benefits:
Time saving : The digitization of purchase requests/orders enables the company to automate certain recurring tasks and accelerate the processes of submitting needs, consulting catalogues and validating internal purchase requests. Lead times are therefore considerably reduced.
Reduce the error rate : Automating purchase requests helps limit the number of administrative tasks with low added value. Error risk can be reduced by more than 50%.
Control costs : Placing your purchase requests for products, services, solutions on a digital procurement software helps you to track your budgets, better compare offers, and easily access internal catalogues or a marketplace.
Associated Purchase to Pay features