Procurement management : from the creation of the procurement policy to the action plan
Could you improve the way you manage procurement ?
Have you defined a procurement policy ?
Are your procurement processes monitored ?
Are you having trouble getting all of your employees to comply with your procurement policy ?
Are you having trouble setting up your supplier relationship management ?
Would you like to have complete control over your supply chain ?
Would you like to integrate your stock management with your purchasing management ?
Have you considered digitalising your end-to end procurement process ?
Optimising procurement management : essential to controlling your costs and improving your performance
How can you ensure that your teams respect the company's procurement policy ? How can you monitor and manage your supply chain ? How to federate around your procurement policy ? How can you improve your inventory management ?
It's simple : by digitalising your procurement process
Digital Procurement will help you to…
Enforce your procurement policy
Are you sure that all your employees are following the procurement procedures ?
No.
And yet it is critical to improving the performance of your procurement department.
The procurement policy is the basis of your procurement ambition with regard to the means available to you. It must ensure that all internal and external actors involved in your company procurement meet your prerequisites. Besides simplifying reconciliation, procurement software helps you enforce your procurement policy, including the use of negotiated contracts and spending processes depending on the amount.
Successfully onboard your suppliers and monitor their activity
Do your suppliers feel involved in your procurement process ?
No, they don't ?
What is your process for successfully onboarding your suppliers ?
Supplier onboarding is at the heart of digital procurement. It must be done in a collaborative way, allowing your partners to input their data into the system.
Effective supplier onboarding is based on :
A clear definition of the supplier information required to manage your procurement
A simple process for evaluating and vetting the supplier by the procurement team and/or the internal clients
A digital communication channel with rules that must be respected on both sides…
Supplier management is based on :
A simplified and transparent communication system
An evaluation system based on measurable KPIs
Providing as much information as possible from both sides through the portal to ensure trust.
Are the provisions of negotiated contracts respected ?
Not always
Do you have a system in place that your teams can easily access ?
Once you have negotiated the general clauses and prices of a contract, it is important to ensure that they will be applied for each RFx. To this end, your employees must have easy access to this information (at least to the negotiated rates and other contractual terms). A procurement and spend management software allows you to provide contracts and catalogues with negotiated prices. It lets you define who has access to this information and automate the application of negotiated prices when the user chooses catalogue items.
Secure your receiving process
Are your employees able to verify that a delivery has been safely received ?
Not always ?
Can they access purchase orders sent to suppliers ?
How can you ensure that the orders delivered correspond quantitatively and qualitatively to what was ordered ? Order forms, quotes, emails… by giving your employees in charge of receiving orders access to all documents related to the orders placed, you ensure the safe receiving of your company purchases.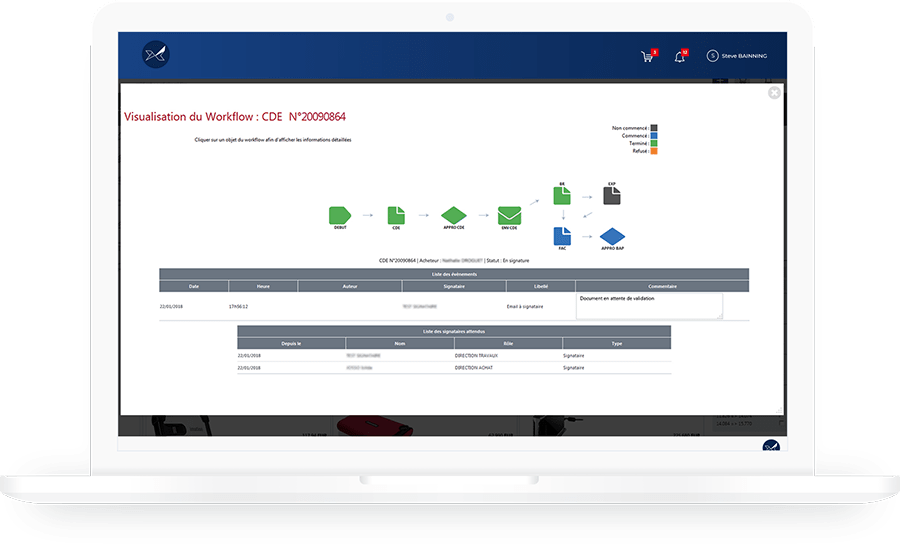 The workflow monitoring feature of the Oxalys software helps you track each stage of the approval process and the procurement cycle, as well as view the associated documents and information.
Keep an eye on your stock
Do you know what exactly is in your inventory ?
Can you anticipate stock shortages, and prevent surfeits ?
Is it difficult ?
Did you know that automating your stock management allows you to quickly reduce your company's purchasing costs? The Oxalys inventory management function is fully integrated into the purchasing cycle. It gives you valuable information on the status of your stock: number of units remaining, expiration dates, notification of orders to be placed, etc. This allows you to take total control of your supply costs.
Manage your procurement action plans
Do you have visibility of ongoing procurement actions, whether for sourcing, RFx or tenders, or quality action plans ?
No ?
Subscription renewals, recurring expenses, major upcoming projects that require purchases… they can all be integrated into a procurement action plan that you can follow by managing the tasks to be performed and monitoring their progress.
You will gain visibility on the progress of action plans and, more importantly, on the results.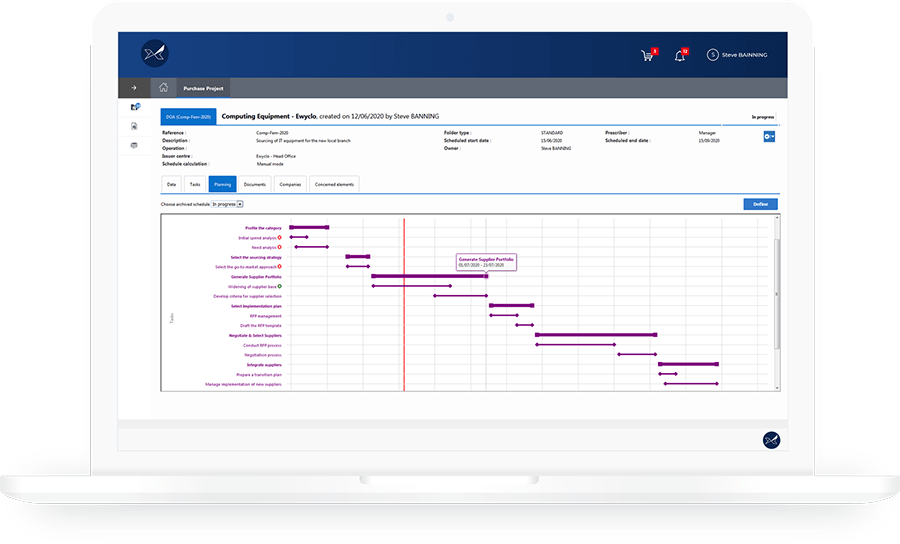 Oxalys procurement project planning enables reliance on a project methodology through the use of a collaborative solution designed for several application areas.