Purchase order tracking with the Oxalys mobile app
Track and approve purchase requisitions, access the information you need to approve or reject a purchase, and keep your purchasing workflow under control.
With Oxalys Mobile Purchasing Management solution you can…
The Oxalys mobile app gives you access to the features you need to track purchase requisitions, orders and invoice payment approvals from your smartphone.
View relevant information
Get an overview of all of the information you need for good decision-making: prices, supplier information, lead time, budgets…
Stay in control of the purchasing workflow
You can still manage your purchases when you're on the go, and perform all your regular tasks: supplier search, order approval and refusal, signatures…
Equip all of your signatories or approvers
Ergonomic and intuitive, with the mobile purchase order tracking app even employees without permanent access to a computer can complete their validation tasks and streamline the decision-making process.
The purchase order tracking app that helps you to…
Quickly reply to requests
No need to wait until you are back in the office, you can use the mobile app to help your staff get on with their work.
A simplified view of supplier information, budgets, etc. helps you be confident you have made the right decision.
Being on the go no longer means you can't work. With the mobile app you can manage your purchases just as you would on a computer with the P2P Oxalys solution installed.
With the Oxalys mobile purchase management app, remote workers can successfully perform all purchase validation operations. The risk of error is reduced, and productivity enhanced.
The Oxalys mobile purchase order tracking app
Approve or reject purchase requisitions, orders or payment approvals, view information to help decision-making… It has never been easier or more practical to securely manage your purchases, in real-time, wherever you are, than with the Oxalys mobile purchase tracking app.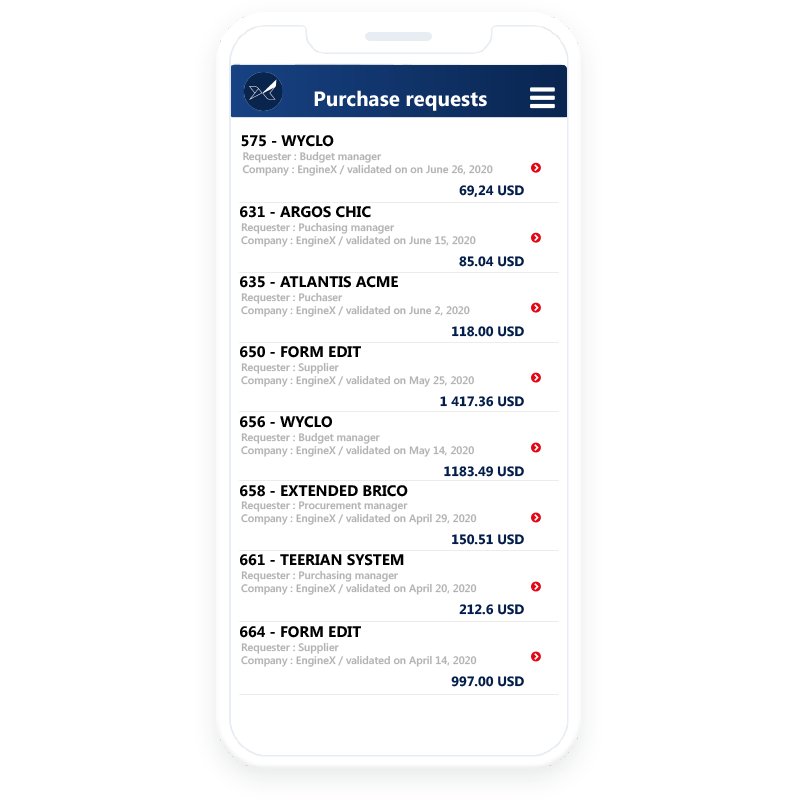 Track and approve your purchases at every key stage
Access useful information and features from your mobile to stay in control of your purchases.
tracking and approval of purchase requisitions, orders and payment approvals
validation workflow (to be sent, signed, sent, etc.)
view attached documents
Stay in control of your purchases
Wherever you are, stay in touch with your procurement department and guarantee continuity in your company's supply chain.
management of  delegations
lead times monitoring
configuration according to budget spending
They place their trust in Oxalys
"With digital invoices available in the solution and access to validation workflows with our smartphones, we have significantly simplified, secured and shortened approval processes'.

Christophe Moreaux

Head of the Management Control Department - French Football Federation
Client Testimonial – French Football Federation
By modernizing its financial and commitment management, the French Football Federation is simplifying access to financial information and developing intra- and inter-departmental collaboration
Read the case study
Find out why many companies use our solutions
FAQ Mobile approval workflow
A mobile purchase tracking app like the one offered by Oxalys enables mobile users to access all the functionalities they need at any time so that they can keep managing the purchasing workflow. Managers can use their smartphones to approve purchase requisitions, orders and payment approvals in full compliance with the delegations, deadlines, and budgets set in the Oxalys procurement solution.
The mobile app also offers the advantage of being accessible at any time with or without an internet connection.
A mobile purchase tracking app gives your staff the flexibility they need to work from anywhere. It is also a simple and affordable solution that allows your company to run at full capacity even when decision-makers are away.
Using a mobile app for procurement management also helps you :
save time
be proactive
simplify approvals
reduce rogue spending on non-compliant orders
integrate all expenses into the procurement system
eliminate paper purchase orders
Using a mobile purchase tracking app like Oxalys also improves supplier relationships, primarily by :
professionalising orders
quickly processing orders
securing the invoice matching and control processes
reducing processing and thus payment times
Additional Purchase to Pay features