Supplier management : transform the client/supplier relationship into a partnership
Are you having trouble managing your supplier relations ?
Are supplier addresses out of date and your orders not taken into account ?
Are you having trouble ensuring that your suppliers comply with your P2P ?
Is your supplier onboarding/management process not clearly understood by your suppliers ?
Does your company wish to fully comply with local compliance regulations ?
Have you considered centralising all supplier management actions in one portal ?
The supplier management features of our solution facilitate collaboration and make it easier to monitor suppliers
How can you easily contact your suppliers ? How can you easily update supplier data? How can you create a supplier performance assessment process ? How can you easily locate all quotes, invoices, and purchase orders from a supplier ? How can you ensure that your company complies with local regulations ?
It is very simple: by centralising all supplier management and collaboration activity in a Procurement system and relying on an SRM module.
Digitalising your supplier management process will help you to…
Successfully onboard your suppliers
Are you having trouble collecting information on your suppliers and registering them ?
Have you set up a collaborative solution to expedite supplier registration through a digital channel that allows sharing information and important documents and managing the relationship ?
No ?
An intuitive and collaborative procurement solution should be considered if you want to ensure that all your suppliers adhere to your processes.
Some of these documents are time-sensitive, so the messaging and notifications system allows you to stay informed in real time on new information published in each supplier's personal profile.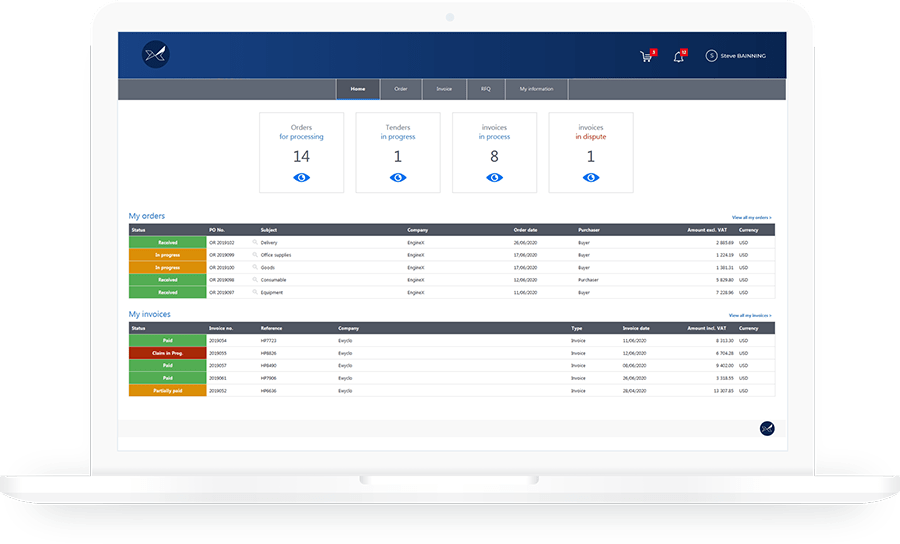 The supplier portal makes the supplier onboarding process a lot easier. Each supplier will get accustomed to using this communication portal from the start to communicate with various contacts in the company, from procurement, to accounting, management, or even quality;
Emails, letters, paper invoices, orders… do you have any trouble keeping up with your suppliers ?
Do you ?
Sharing data in a digital platform is the solution to wasting time looking for documents. Clients and suppliers alike have access to all the data relevant to their exchanges: emails, budgets, contracts… Oxalys offers a notification system that alerts you to each new action on the portal.
Have you defined a supplier performance assessment process ?
Have you not ?
So how do you evaluate the quality of their services ?
Supplier performance assessment is not only beneficial for your company, it is also good for your partners. Each supplier is evaluated according to qualitative or quantitative criteria established by you or your employees. It is thus possible to customise the evaluation according to your expectations and to the order type. The quality of your services can depend on the quality of your partners, which is why it is important to evaluate them. As for your suppliers, they can adapt their services according to your feedback.
The Oxalys Supplier Performance Assessment feature allows all employees in contact with your suppliers to have their say (buyers, operational staff, in-store employees, etc.). The online surveys are part of a continuous improvement approach to procurement performance, in collaboration with suppliers.
Manage disputes and complaints
What do you do if a supplier does not meet your expectations ?
Are you able to explain your dissatisfaction ?
No, you can't ?
In terms of dispute management, it is recommended to provide factual elements to justify any refunds, replacements, or service improvements. Relying on contracts, quotes, purchase orders… but also on the entire supplier interaction (follow-up messages, evaluations) makes it possible to speak based on facts.
Using a digital procurement platform allows centralising all documents and keeping a record of your exchanges with suppliers.