Digital procurement with Oxalys
Simplify and efficiently manage your procurement processes. Oxalys is a complete and scalable procurement software that adapts to your current needs and supports your company's growth.
Request a demo
Get ready to efficiently manage your purchases! Oxalys procurement software is designed for medium size companies as well as for large groups or public bodies. It delivers a customized solution tailored to your immediate and future needs as you digitalize your processes
A fast and ready-to-use software
Get to work immediately and see rapid improvement for your company.
Our experts support you in optimizing your purchases with Oxalys. Intuitive and collaborative, our procurement software simplifies the work of your teams.
An adaptable and scalable solution
Digitalize your purchases at your own pace without overhauling your processes!
Oxalys is compatible with all ERP and information systems. Use the features that are useful today, and activate others as new needs arise.
An end-to-end procurement suite
Manage all of your procurement processes, from supplier sourcing to digital invoice management.
Supplier sourcing, contracts, purchases, invoices, inventory, reporting… Automate all your procurement processes and manage all types of spend.
The procurement software that supports all companies as they grow
SMEs, mid-sized companies, public entities… Oxalys procurement software meets your current and future needs to achieve your ambitions.
Integration and connectivity
Manage your entire spend and procurement process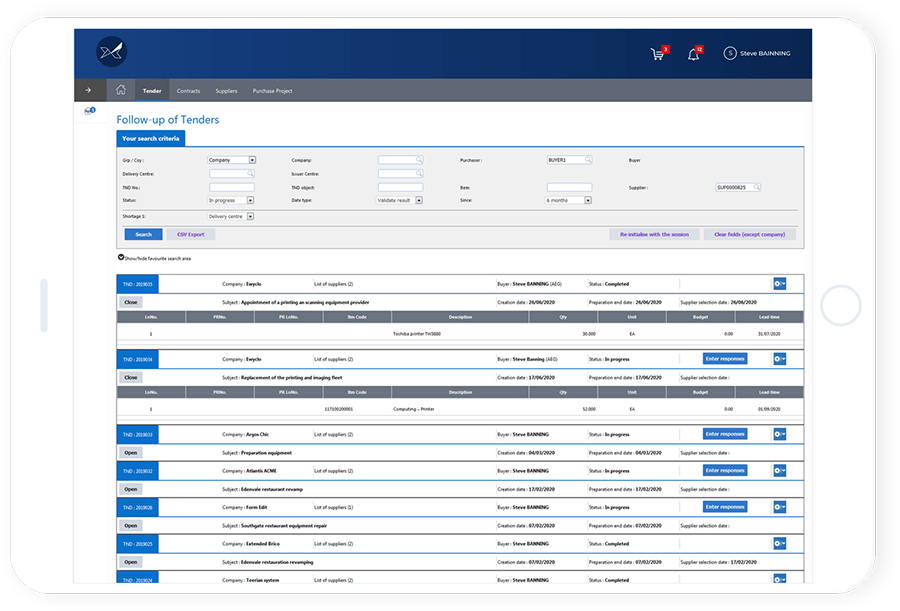 From sourcing to contract management, centralize information within a single repository and share it with your employees
Collect and analyse the purchasing needs of your company
Find and consult your suppliers
Improve buyer performance
Monitor your contracts
Learn more

Issue and approve purchase requisitions, manage supplier invoices, ensure inventory management… even on-the-go.
Centralize purchase requisitions
Process supplier invoices
Manage your purchases and your inventory
Benefit from a mobile app
Learn more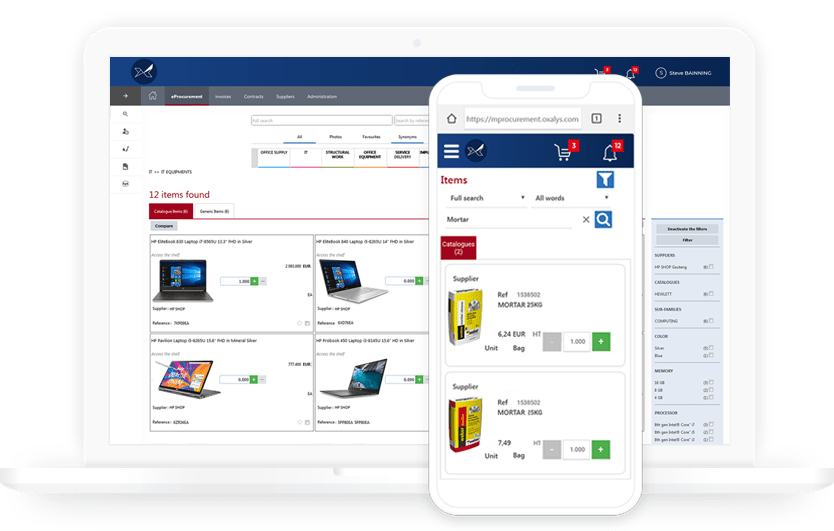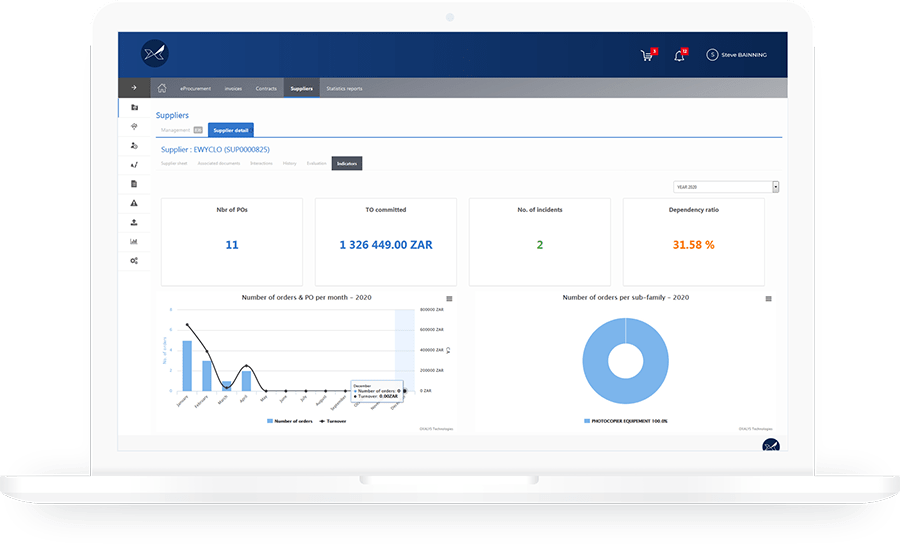 Enhance communication with your suppliers, easily view supplier information and create your supplier performance assessment strategy.
Communicate and collaborate with your suppliers
Benefit from a supplier information overview
Evaluate your suppliers
Learn more

Develop your procurement action plan and track your performance indicators with the procurement dashboard.
Customize and manage all types of procurement projects
Create action plans (RFx, market procedure, improvement, etc.)
Analyse procurement performance indicators
Measure the impact of your procurement activity on the company
Improve the quality of your BI reporting
Learn more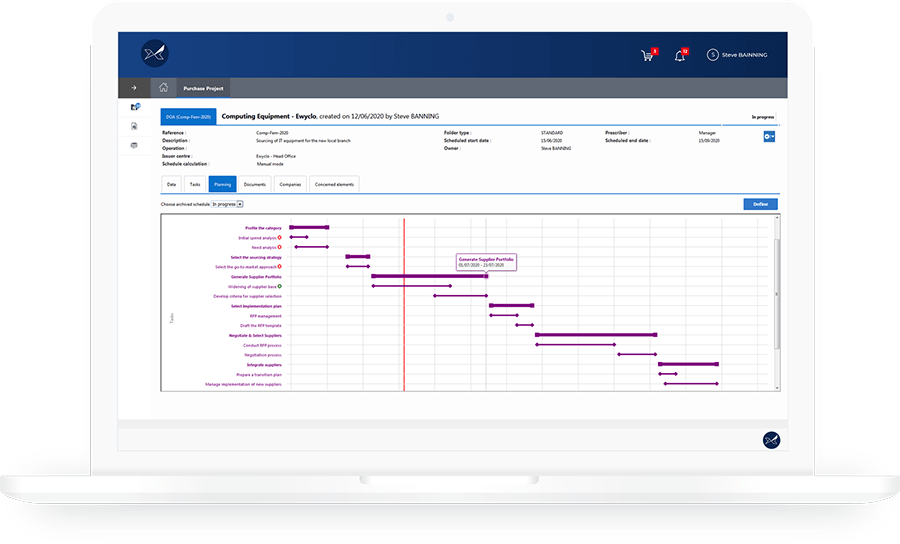 They place their trust in Oxalys
"We've become faster and more autonomous. We've shortened turnaround times and streamlined processes through our NAOS Store portal.
We achieved an adoption rate of 80% in 6 months thanks to the usability of the solution and change management, in the form of video newsletters

Stéphane Faustin-Leybach

NAOS Procurement Director
Have a question about Oxalys procurement software?
Yes, Oxalys procurement software is a suitable solution for SMEs. It lets you automate your entire procurement process, such as order submissions, purchase orders and invoices matching process, supplier databases updates… And it also helps you to effectively manage your procurement policy.
By digitalising their procurement process with Oxalys , SMEs benefit from a pragmatic solution that's ready to go. The solution is ready to use, employees appreciate its ease of use and soon notice the benefits of automated tasks.
Oxalys software can adapt to the procurement processes of Small and medium-sized enterprises (SMEs) and larger entities or groups. Oxalys is also a solution suitable for all companies that wish to automate the management of their purchases. Its features are activated according to the user's needs. It is totally possible to automate only contracts and invoices management today, and to extend the scope of the solution in the future in case there is a need for more analytical features, such as procurement action plan design or spend management.
Oxalys' objective is to help structure and professionalize procurement and support the company or organization in the digitalization of their procurement processes, at their own pace.
We currently support hundreds of clients in their procurement digital transformation. Our consultants and partners work around South Africa to support companies in implementing their procurement information system.
In order to provide you with more customized or localized support, we have developed a partner network with first-level integrators and consulting companies.
Using a procurement software affords a number of advantages if you find yourself in one of the following situations:
Time dedicated to purchasing management is constantly increasing
You or your staff only manage repetitive administrative tasks
You do not have visibility into your purchases/spend with your suppliers
You are starting an initiative of setting up an effective procurement management process for your company
You would like to ensure compliance with contracts negotiated with your suppliers by the entire company at all times
You do not have visibility on your inventory and you often need to process orders urgently
You need to restart your supplier sourcing process for each planned purchase
You manually process several thousand paper or PDF invoices
You experience delays or omissions in the payment of your supplier invoices
You do not have the information you need to prepare reports on the management of your purchases
You cannot ensure that all your suppliers meet their legal obligations
Purchase amounts are constantly growing and you have not yet negotiated and implemented contracts and deals with your suppliers at preferential rates
You use several isolated Excel files that are difficult to share