Purchasing and inventory management by Oxalys
Manage lead times, move to digital inventory management, optimise flow of stocked items
With the Oxalys Purchase and Inventory you can…
Manage and optimise your lead times
Inventory is added to the purchasing cycle and restocking is completed in line with purchasing and logistics department's policies.
Manage and optimise inventory levels
PUMP, FIFO… Oxalys lets you use different restocking strategies that take the cost of restocking and storage into account.
The inventory and purchasing management solution that helps you to…
Comply with your procurement policy
Oxalys helps you to stick to your procurement and inventory management processes and benefit from short, defined lead times.
Select the right restocking strategy
Leverage a restocking strategy that ensures optimal inventory management at both an operational and financial level.
Purchasing and Inventory Management by Oxalys
Manage restocking, know where products are stored, monitor patterns in inventory levels, manage inventory… Oxalys optimises your purchasing and inventory management.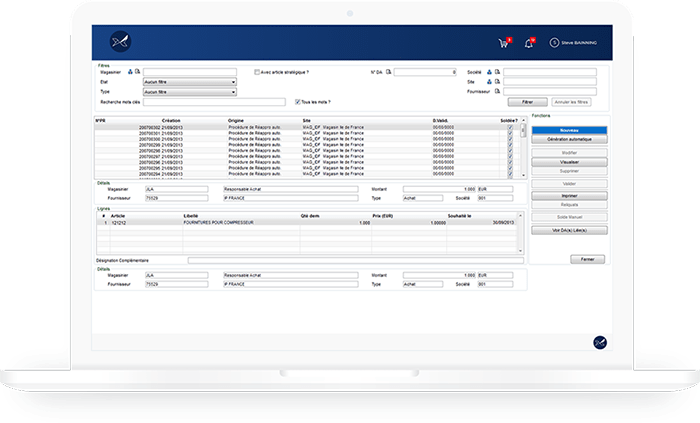 Integrate inventory into the purchasing cycle
With an efficient restocking  process, you get a comprehensive overview of your inventory status and easy access to your merchandise.
built-in restocking reminder
optimise your replenishment criteria (Wilson Formula, for example)
analyse sleeping and dead stock
real-time display of total consumption
location management
Choose your inventory management model
Get the information you need for proper purchasing and inventory management, and reduce unnecessary expenses arising from managing inventory based on estimates.
manage physical sites
manage items batches by expiry date
batch traceability
internal procurement time, possession rate, order cost
rolling and permanent inventory according to several criteria
They place their trust in Oxalys
"By broadening access to financial data with full transparency through digital solutions, we have removed the barriers to intra- and inter-departmental communication. This project has helped improving internal communication and understanding of how the FFF works, but also communication with suppliers.

Christophe Moreaux

Head of the Management Control Department - French Football Federation
Client Testimonial – French Football Federation
The FFF relies on the modernisation of its committed spend management to develop intra- and inter-departmental cooperation.
Read the case study
Find out why many companies use our solutions
FAQ Purchasing and inventory management
A purchasing and inventory management software helps you to :
manage bar codes
work together with different stakeholders
streamline purchasing management
optimise and facilitate inventory management
optimise flows
get the best prices
The Wilson Formula is used to estimate a company's restocking needs. It calculates optimal order levels while trying to minimize procurement and storage costs. This formula adapted  for mass purchasing is not suitable for just-in-time production. The Wilson formula is built into some purchasing and inventory management programmes, including our P2P solution.
In inventory management FIFO, or first in first out, is a system that indexes products by expiry and/or arrival dates. In this mode, you can avoid throwing away perishable products as well as the wear that some parts experience when stored for a long time. In FIFO, when you receive a new order from your supplier, you store the new merchandise at the back of the shelving and bring older products forward.
Associated Purchase to Pay features