Oxalys Tender & RFx management: Supplier sourcing and selection
Submit your RFQ to suppliers, comply with your tender policy, select your partner…
With Oxalys Tender & RFx management you can…
Source and select suppliers
The Oxalys Tender & RFx management solution let you collect and analyse your company or organisation's purchasing needs. Enter your criteria, analyse the data, and select the most suitable suppliers.
With Oxalys sourcing solutions, you can create your own calls for tender for products or services you can't find in the database. Analyse needs, launch the proposals process, and invite your suppliers to bid.
All documents are integrated into the tender. Compare and evaluate proposals, get 360° view on bidders information and select your ideal partner.
The Tender & RFx management solution that helps you to…
Improve your supplier sourcing
Leverage our selection functionality to analyse relevant indicators for any product: price, suppliers, manufacturers, evaluation, lead times, financial data… All the information buyers need, right at their fingertips, for optimised selection and decision-making
Save time and boost productivity
Preparing tender folder, creating proposal forms, drafting contract clauses… these are just a few time-consuming jobs that drain your productivity. Oxalys Tender & RFx management centralises and automates the production of these documents to boost your productivity and reduce the stress of organising things yourself.
Simplify and standardise your procedures
Digital tendering enables you to synchronise and streamline your procedures. Coordination between your company's departments is made easier, the quality of your work improves, and the cost of tenders falls.
Tender & RFx management with Oxalys
Identify needs, select relevant suppliers, launch requests for information, analyse and compare bids and, when ready, sign a contract: Oxalys takes care of making your tendering process paperless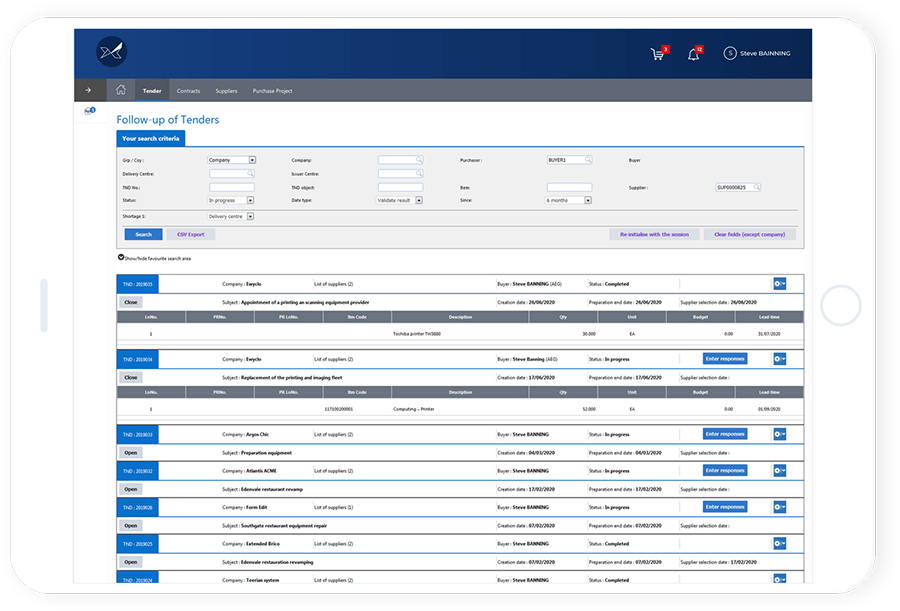 Input your needs and launch the procedure
The buyer or end-user searches for products, services, or work jobs within the software itself. Can't find a specific need in the procurement platform? Simply create a tender right from your requisition.
Need identification and analysis
Creation of tender directly in the solution
Once the tender has been issued, the buyer chooses a tender template and follows the instructions to send the document to the suppliers. All that's left to do is keep an eye on its progress, retrieve digital response from suppliers, and see what they propose.
Tenders and RFx (RFI, RFP, RFQ) creation
Tender and RFx monitoring
Centralised access to information (clauses, related documents, attachments…)
Centralise and analyse proposals
Buyers get a notification from the software when a bid comes in, and can immediately compare the proposals they have received. The 360° view on supplier information complements the comparative analysis so that buyers can see all of the information they need to make an objective decision.
Collaborative scoring of supplier proposals
Multi-criteria evaluation (quantitative and qualitative)
They place their trust in Oxalys
"The Procurement Department provides essential support to our operations staff. This meant that we needed a multi-site, multi-business order management and tracking solution that would help us with this process and gradually bring us into the digital age.

Bernard Villepinte

NGE Procurement Director
NGE provides its employees with mobile devices to place their orders on site and
implements its group procurement policy through the Oxalys Procurement software.
Read the case study
Find out why many companies use our solutions
FAQ Tender and RFx management
A successful digital tender process is, in part, a matter of using your desired Source-to-Contract software effectively. We recommend formalising your procurement procedures and defining or redefining its major stages. Ideally, this analysis is carried out in consultation with at least one member of each department that uses the solution. Next, you just have to configure the Oxalys Source-to-Contract features to automate your tenders. To make it easier, an Oxalys or partner consultant is at hand to help throughout the process of configuring and rolling out the solution.
The Oxalys Tender & RFx management process is made up of five stages:
Preparing the tender including the needs to be addressed
Sending the tender to the supplier (or issuing a call for tenders on the Supplier Portal)
Automated compilation and analysis of supplier bids (price, products, services, trade work)
Communication of any additional information needs
Supplier selection
Submitting a Request For Information (RFI) is a preliminary phase to gather information about suppliers. The Request for Quote (RFQ) phase is when you receive bids in order to compare them and select a supplier.