2023


South Africa
Procurement survey
This 3rd edition of  the Oxalys South Africa Procurement Survey focuses on providing insights and strategies to enhance resilience in procurement practices, catering to the evolving needs of businesses. Key areas such as performance management, inclusivity, and digital transformation are investigated. This year's edition also features a special section dedicated to public procurement, shedding light on its unique challenges and opportunities.
Whether you're an industry professional, a government official, or a researcher, this survey offers valuable analysis, expert commentary, and practical recommendations to navigate the complexities of procurement effectively. Join us on a journey of knowledge, as this edition equips you with the tools and insights to thrive amidst uncertainty and drive sustainable procurement practices.​

92% of Professionals confirm that Procurements impact on the economic performance of a business is either significant or game-changing

60% of respondents agree that Digitisation is a driver for Procurement to deliver more strategic value to their organization

54% of Public Sector respondents reported they experience irregular expenditure
Due to the increase in fuel prices, rising interest rates and the impacts of load-shedding, reducing supply risks remains top of the agenda for procurement departments. Maintaining optimal supplier relations is key to achieving this and it also supports positive negotiations for better pricing.
Oxalys South Africa procurement survey 2022 – Figure 1:
How would you define the top procurement's priority for 2023 in your organisation?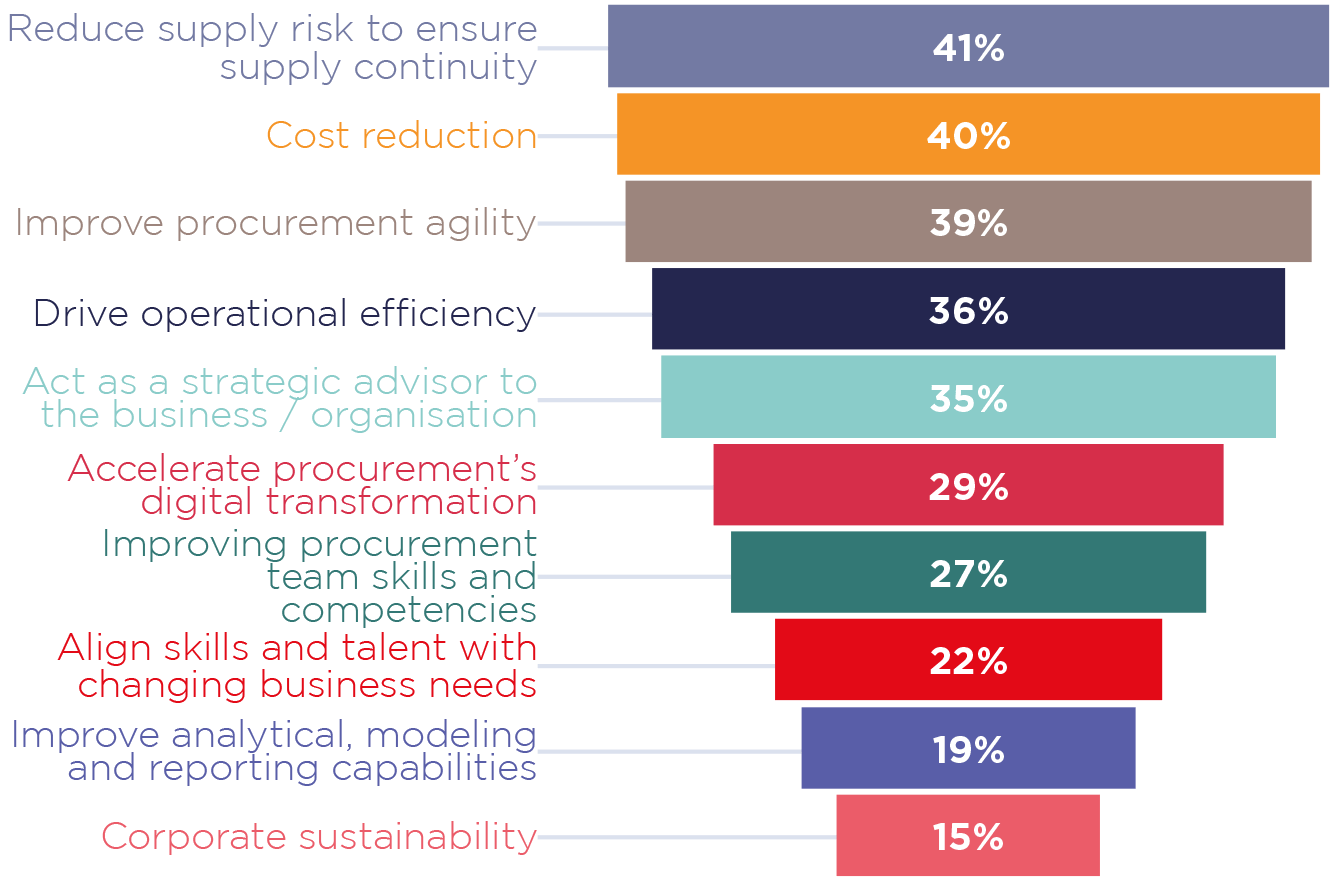 Many organisations remain steadfast in their approach to leverage their existing ERP solution to cater for their unique procurement processes. The challenge is that ERP systems remain rigid and often requires businesses to align their processes as defined by the system. 15% of the respondents however have identified more flexible and cost-effective solutions that can align and digitize their existing processes, while integrating with their ERP solution, to enable seamless workflows.
Oxalys South Africa procurement survey 2023 – Figure 14:
What are your top priorities for digital procurement in the next 2 years?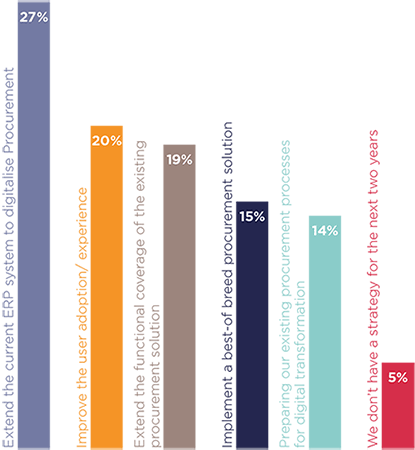 Although improvement of security and alignment with internal policies remain a leading strategy for resilience, digitisation has leaped to the forefront of the CPO agenda in less than 12 months and is now the second-ranking strategy in deployment.
Localisation and inclusivity are still at the heart of procurement strategies, driving additional value in their organisations.
Oxalys South Africa procurement survey 2023 – Figure 3:
Which of these strategies are deployed in your organisation to deliver more strategic value from procurement?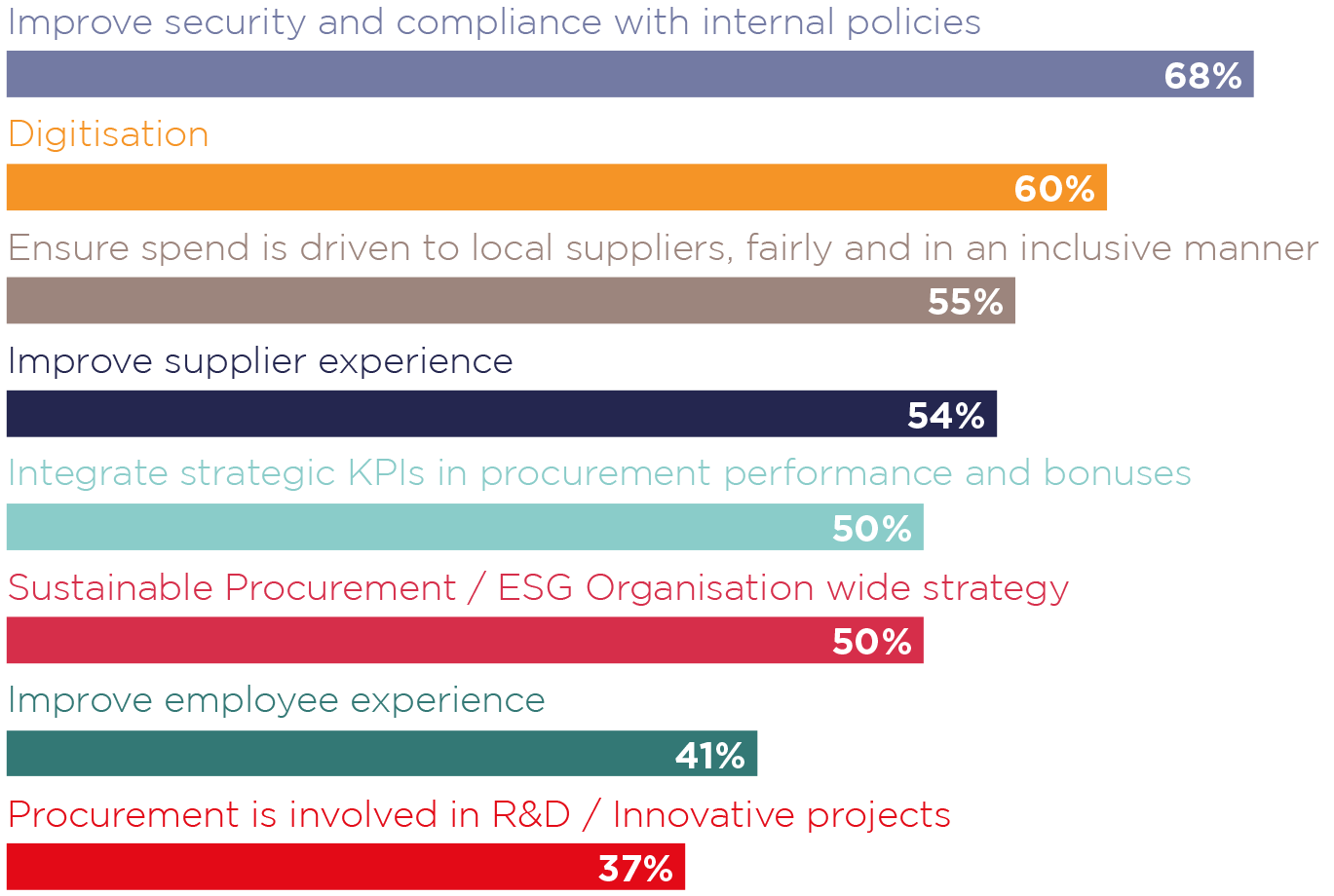 What they say about the survey
"Securing supplies is once again becoming a major concern and the role of Procurement in value creation is now perceived as essential. Clearly, procurement professionals' role has matured, as proven by the evolution of the missions given to them. Its expanded contributions to the performance of the organization are better defined and expected. For this increase in maturity to be effective, it is also important to develop procurement departments, as well as the skills they deploy to ensure their multiple contributions.

Hugues Poissonnier

Associate Professor Grenoble Ecole de Management
"Digital transformation will drive the visibility required to achieve the KPIs, improve modelling and reporting capabilities. Visibility and the right data are critical to identify inefficiencies in the system and to leverage opportunities to reduce costs or drive other efficiencies.

Prajay Juta

Procurement Director, Tiger Brands
"With digital procurement, we need technology aptitude. The ability of people to work on new age solutions, and really utilise the technology, is very important.

Ben Van Zyl

Group Executive: Procurement and Contract Management, Telkom SA
"Our CEO once said: "I dream of a world where we have a single view of the customer". For me, the number one barrier to digital transformation is data quality and system integration. A fragmented view hampers visibility and delivers poor data. Data quality impacts our business selection and placement. It affects our ability to negotiate, leverage and analyse where we are spending, and to be able to accurately forecast demand.

Marvin Tshezi

Head of Claims Procurement, Hollard Insure
"It is one thing to say that you want to digitise, but have you diligently concentrated solely on augmenting value-added processes? Have you removed all failure demand before embarking on your digitisation journey?

Marienne Burger

Group Procurement, Chief Operating Officer, Standard Bank Group
"Critical skills today are digital procurement and data analytics, using this as a platform to influence and lead transformative change. Procurement has a big role to play in shaping of business strategies to deliver value. Fundamental to our digital strategy in Procurement is our people and we continue to invest in our teams to be future fit.

Suren Subramanien

Head of Procurement: Africa, Unilever
"Budget restrictions definitely become the biggest hurdle in the digital journey. In terms of budget, we are focusing on the current projects that are ongoing and other areas of the business where it is critical for integration to happen with our current ERPs. Available resources and capacity are being utilised to ensure that we do the integration. It might take a bit longer, but we are containing costs.

Matsepo Mabena

General Manager: Procurement, MTN South Africa
Launched in 2020 during the most unusual time, the annual South Africa Procurement Survey was the first-ever locally conducted survey designed to provide exclusive insights into procurement key priorities and challenges in South Africa.
Each year, this survey attracts over 200 respondents, investigating important topics such as risk management, localization and resilience, while providing a barometer of procurement strategies and practices as they evolve.
We thank all contributors whose individual insights have deepened the understanding of tomorrow's procurement panorama . We also thank our partners, CIPS and Smart Procurement World, who played a large part in amplifying the echo of this joined initiative.