South Africa Procurement Survey
2022 Oxalys South Africa Procurement Survey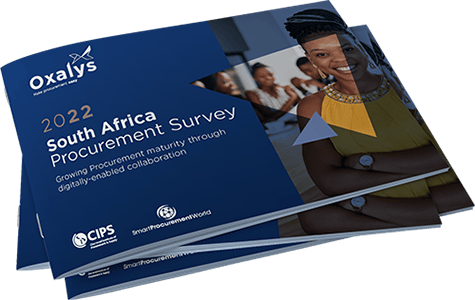 Growing Procurement maturity through digitally-enabled collaboration
The annual Oxalys South Africa Procurement Survey deciphers the major trends at work within the Procurement and Finance Departments in South Africa. Carried out in partnership with CIPS Africa and Smart Procurement, this initiative provides a local overview of key procurement practices, at a time when most similar surveys are conducted at a global level. It captures the uniqueness of South Africa while highlighting emerging trends and practices.
This 2022 Procurement Survey investigates new areas such as sustainable procurement and collaborative practices, which – beyond the buzzwords – we believe are decisive in positioning the country for the future.
The quality of the analyses and the relevance of the survey results stem from the diversity of the contributors, composed of various procurement professionnals and influencers' profiles from various sectors of activity and company sizes.
The 2022 Oxalys South Africa Procurement survey aims to provide information about:
Procurement key challenges and priorities in 2022
Evolution of procurement practices and supplier relations
Procurement digital transformation perspectives
For this 2022 edition, 119 South African respondents took part into an online quantitative survey disseminated through emails and social media between February and April 2022.
We would like to thank once again all those who took part in this initiative, whether for its elaboration, its input or the interpretation of the data collected. We would like to thank in particular Hugues Poissonnier, Associate Professor at Grenoble Ecole de Management where he is responsible for courses in strategy, control and procurement, and Debbie Tagg, Chief Operations Officer at Smart Procurement World.
Dear readers, we hope that the results of this survey will inspire deep reflection and fruitful exchanges!
Please fill in the form on the top right of the page to download the interactive PDF report.
Share this survey with your peers: