Manage procurement KPIs with Oxalys Analytics
Connect your procurement portal to your business intelligence solution, easily export your data to Excel, generate dynamic dashboards
With Oxalys Analytics you can…
Monitor procurement performance indicators
The Oxalys procurement dashboard lets you define KPIs and track the performance of your procurement processes in real-time.
Analyse supplier performance indicators
Analyse the performance of your suppliers according to pre-set or custom criteria. % contract compliance, lead times, product quality… your procurement dashboard provides easy access to information that will help you analyse supplier performance indicators.
Get visibility on buyers' activity
The Oxalys procurement dashboard lets you view the activity of your buyers using the software. Configure dashboards tailored to each user's scope of responsibility or create custom KPIs according to the performance indicators you wish to analyse.
The BI reporting solution that helps you to…
By analysing procurement KPIs, you can optimise costs and meet pre-set standards for your procurement processes.
Configure procurement dashboards to improve your client/supplier relationships through real-time tracking of custom performance indicators. With the supplier performance data you collect, you can quickly identify and correct any failures that may affect your own services or product quality.
Track actions of your buyers
Compliance with procurement rules, compliance with CSR requirements, number of urgently processed orders… analyse your buyers' performance indicators and create custom reports for their individual roles.
Monitor procurement indicators with Oxalys
Consolidate procurement data in your Business Intelligence solution, set your procurement performance indicators, view data in real time, convert your tables into Excel files, and more: optimise your spend management process with Oxalys Analytics.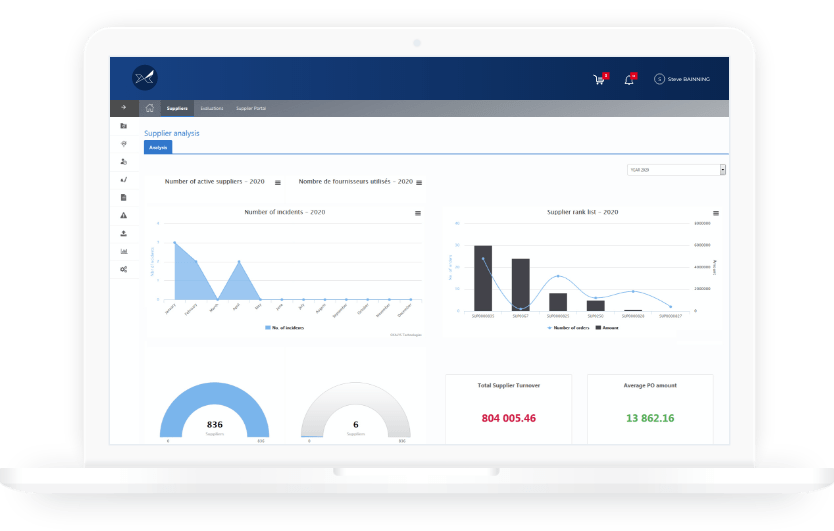 Our indicator creation and analysis solution provides you with all the data you need to analyse procurement processes. The solution contains a range of report templates, and lets you create any kind of report you need.
analysis and reporting (bar charts, pie charts, curves, crossover, drill down, etc.)
procurement process performance
supplier performance
buyer activity
Integrate procurement into your Business Intelligence solution
The custom analysis features let you use data found in the Oxalys data warehouse within your company's Business Intelligence solution.
data warehouse (data base)
compatibility with market BI systems (Business Object, Cognos, Crystal Report, etc.)
Easily convert tables into Excel files
Data embedded in dynamic tables can easily be transferred to an Excel spreadsheet. Useful for in-depth data analysis and the creation of custom reporting dashboards.
multi-format export (PDF, Excel, CSV, XML, etc.)
report library
They place their trust in Oxalys
"We couldn't be pioneers in product innovation without a highly developed and innovative information system! We needed a business solution for procurement.

Stéphane Faustin-Leybach

NAOS Group Procurement Director
Client Testimonial – Naos
To support the group's strong growth, the Procurement Department has developed an innovative procurement strategy that resulted in the implementation, at the beginning of 2017, of a digital procurement and SRM solution called NAOS Store.
Read the case study
Find out why many companies use our solutions
Tracking procurement performance helps you identify where and how you can improve your processes. To track procurement KPIs, we recommend standardizing your methods and the chosen performance indicators. By constantly measuring pre-set performance indicators, it becomes easier to analyse short- and long-term evolutions.
Business Intelligence software is a digital decision-making tool that procurement managers use to collect, analyse and exploit data that can inform the strategic decision-making process. A BI tool not only lets you process data you can use in reports, but also lets you create dashboards to evaluate your company's procurement performance.
There are several procurement KPIs that can be measured. You choose the ones that are right for your particular context and targets. The most useful include :
Economic performance indicators :
annual spend value
average purchase basket
purchase profits
Activity indicators :
number of purchase requisitions
purchasing cost per order
number of suppliers per order type
number of suppliers
Quality indicators :
non-compliant orders
supplier performance
average order processing time