5 & 6 July 2023
Radisson Blu Sandton – Johannesburg
Register before 9 June and Save 15%!
Register now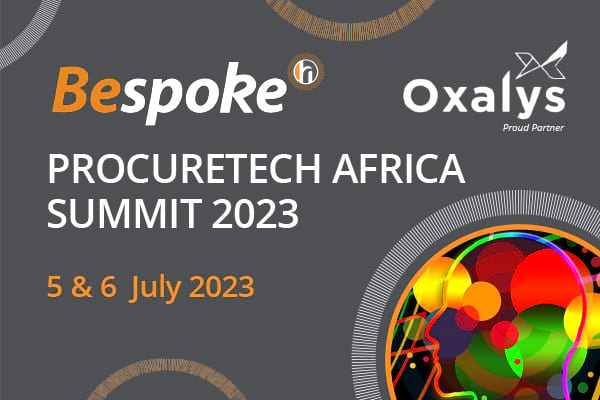 Oxalys is delighted to partner with Bespoke and take part in the upcoming ProcureTech Africa summit to be held on 5 & 6 July 2023 in Sandton, Johannesburg, South Africa
Leading industry players will share their in-depth knowledge, expertise and case studies on procurement transformation by delivering a presentation during the two-day summit. The conference will address the following topic: "Procurement 5.0: Digitisation of the procurement ecosystem".
Benefit from top quality information and leading practices that will change your approach to procurement transformation and give you updated knowledge about digitisation of procurement and AI in supply chain.
Why should you attend ?
An exclusive and dedicated digital procurement event on the African continent
12 quality presentations about AI in supply chains, blockchain and digital procurement
Speakers who are specialists, experts and thought leaders from the digital procurement world
Case studies from leading private and public sector organisations, across a variety of industries and markets
Information that will change your approach to digitisation in procurement and supply
As an industry leader in the digital procurement space in South Africa, Oxalys will have the pleasure of hosting a keynote session that will specifically address the latest trends in digital procurement in the country.
Register on the event's website before 9 June and save 15%!
Meet the team and do not miss our keynote session :
CONFERENCE | Optimising procurement software implementation : A project management case
Thokozile Makobong, Business Analyst, Oxalys South Africa